WORKING WITH US
Download Lab Forms
Cosmetic Lab Slip
Download PDF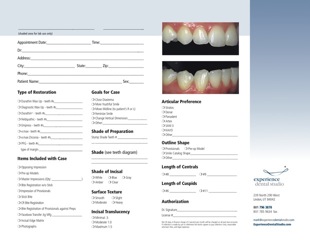 Standard Lab Slip
Download PDF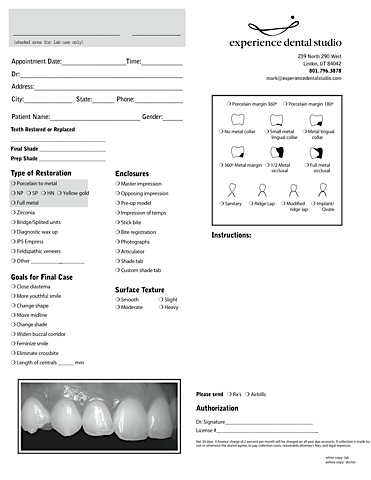 Policies & Procedures
Shipping
Experience Dental Studio pays for inbound and outbound shipments through UPS. Pre-printed labels will be provided to your office. With each case, there is a small packaging and handling fee that will be included on your invoice.
Inbound Shipments – Shipments sent to Experience Dental Studio should be sent using the pre-printed UPS labels. The labels we send are designed to ensure delivery of your package the day after you ship it.
1. Fill in your Name, Address, and UPS Account Number in Box 1
2. Sign & Date in Box 10
3. Keep the 2nd Copy for your Records
4. Call UPS for a pick-up at 1-800-PICK-UPS
Outbound Shipments – Shipments will be received in your office 1-2 business days after the work is completed in the lab. Shipments are sent via UPS and should arrive by the end of the day. For anytime prior to this, specific arrangements need to be made with the office.
Packaging & Handling Fees – We appreciate your business and enjoy the opportunity of working with you. As part of our service, we want to ensure that cases arrive to you in the best possible condition. To help cover the cost of packaging materials and shipping fees, each case will be charged the appropriate packaging and handling fee.
Cosmetic Restorations, $15 – Standard Restorations, $5 – International Shipments, $30
Scheduling
Experience Dental Studio will do everything possible to return cases to you in a timely manner. This includes returning cases to your office no later than the day before the patient's appointment. If there are extenuating circumstances which will not allow us to keep the schedule, your office will be immediately notified. The average turn-around time is 3-4 weeks; however, it will vary for each case.
Rush Fees – If you need a case returned to you office in a less than average amount of time, please plan on paying a Rush Fee. This fee will vary for most cases. It is best to pre-schedule a case that needs to be rushed; we will be able to give you a fee estimate at that time.
Pre-scheduling – Scheduling your cases in advance of them arriving in the office will help to ensure that you receive your cases back when you have promised them to your patients. This is especially best for any large or time-constrained cases. To pre-schedule a case, please call the office and have the following information available: date it will leave your office, teeth #'s, type of restoration, date you need it back in your office, and patient name. We will work with your office to find the best date of return.
Standard Restoration Calendar – If your office frequently sends standard restorations, you can request a calendar with printed return dates. To ensure the accuracy of the calendar the following guidelines should be adhered to:
1. Ship the case no later than the day after prep
2. Include all necessary items and instructions with the original case
3. Check the material. The calendar is only applicable to single-unit and 3-unit bridge restorations in Empress, eMax, Zirconia, and PFM.
The case will arrive in your office on the date printed as the "return date", when the above guidelines are followed.
Payment Terms
All invoices will be processed on a monthly statement for the month in which the invoice was issued. Payment is due in full within 30 days of the statement date. A late penalty of 2% per month will be charged on all balances not paid within 60 days from date of invoice. By submitting a prescription you agree to pay in full the stated price of product plus applicable taxes and shipping and handling fees. You further agree to pay any late payment penalties and payment collection costs, including attorney's fees, if applicable.
For all current Experience Dental Studio accounts, you will be billed as usual. We request that you provide a credit card number to keep on file for our records and for your ease in paying. For all new accounts a valid credit card must be on file to process your restorations.
Payment Options – Using monthly statement, mail payment or call with authorization to process credit card on file. Or, automatically pay off balance with credit card on file on the last day of each month. (Monthly statement will be sent verifying $0 balance.) Types of cards available: VISA, MASTERCARD, AMEX.
Past Due Accounts – If payment is not received within 30 days from the statement date, your account will be considered delinquent. If payment is not received within 60 days from the original statement date, your account will begin receiving a late fee of 2% per month. If payment is not received before 90 days from the original statement date, your credit card will automatically be billed before the next statement period for the past due amount, unless prior arrangements have been made.
Discounts
Discounts may be given for various reasons on a case-by-case basis. You may arrange specific discounts for your office with Mark by calling the office. You may also qualify for discounts when you send in cases for employees currently working in your dental office:
1. 20% off – Doctors currently using Experience Dental Studio for fabrication of standard or cosmetic restorations.
2. 15% off – All other office personnel (including hygienists and assistants) of doctors currently using Experience Dental Studio for fabrication of dental restorations.
To qualify for Employee Discounts, note on lab slip that the patient is an employee. You may also want to call ahead to make office aware and to pre-schedule case.
Warranty
Experience Dental Studio offers no implied or written warranty with regards to the materials used in fabricating restorations. Under no circumstances will Experience Dental Studio be liable for any economic, incidental, consequential or punitive damages that may arise out of your use, misuse, or inability to use any products.
Product Acceptance – You have the right to inspect all products prior to acceptance. A product is considered accepted if you use it in any way, including but not limited to, the placement of the product in a patient's mouth and/or modifications of any sort made by you or your office. Products not returned or rejected within 15 business days of receipt are also deemed to be accepted. Notifying Experience Dental Studio of your concerns regarding the product within 15 days will constitute a non-acceptance if the product is later deemed unaccpetable.
Limited Warranty – Experience Dental Studio will repair or remanufacture, at its sole discretion, any restoration that is defective or does not meet your specifications. Please see the Remake Policy for more information.
Remake Policy
It is the policy of Experience Dental Studio to fabricate restorations of the highest quality and to your exact standards and specifications. Experience Dental Studio may issue a credit directly to the account when a case doesn't meet our exceptional standards for fit, quality, and function. Any credit balance on an Experience Dental Studio account must be used for lab services; the cost for fabricating custom made restorations cannot be refunded.
If you request the remanufacture of a restoration, you must submit all original materials to the Studio, including but not limited to:
1. Photographs
2. Original impressions
3. Models
4. The restoration
Experience Dental Studio shall decide, at its sole discretion, if the restoration is repairable or requires remanufacture. When it is determined necessary to remanufacture a product, it will be done within a reasonable time and returned to your office promptly.
Under most conditions, all remakes will be completed at no charge if received within 30 days of the invoice date. However, charges will likely be incurred under the following circumstances:
– The original dental restoration was not returned.
– The bite or impression sent is different from the original.
– Abutments and/or teeth are re-prepped.
– Restorative materials requested are different from the original order.
– The shade is different from the original order.
– Specific instructions were not provided on the original order.
– The lab questions the die, margin, or impression and is told to proceed as is.
– The lab has advised the quality of the order cannot be guaranteed and is informed to proceed.
– The restoration fits perfectly on the master model and solid model.
– Experience Dental Studio will notify clients of any remake charges prior to fabrication.
Order Cancellation
Experience Dental Studio understands that occasionally circumstances change which require the cancellation of an order. Please notify Experience Dental Studio, as soon as possible, if you would like to cancel an order that you have not yet received. When cancelling, you understand that we may have begun working on your customized order and you agree to pay for any costs actually incurred in connection with your order prior to your cancellation request, up to the full stated price. Unfortunately, cancellation requests cannot be honored after the restoration has been completed.
Privacy Statement
Our Commitment to Privacy – The privacy of our clients and their patients is very important to us. The following policy outlines specific points that may affect you, your practice, or your patients.
The Information We Collect – We may collect personally identifiable information from you such as your name, postal address, email address, and telephone number. We will only collect personally identifiable information which you voluntarily provide to us, such as when you order a product or email us.
How We Use Information – We will use your personally identifiable information for customer service, to respond to your requests, to provide you with information you may request, and to complete your order. We may use third parties to help us operate our business and administer activities on our behalf (such as deliver orders and authorize credit card transaction) and may share your personally identifiable information with these contractors for those limited purposes. Except for these parties, we will not shall your personally identifiable information with third parties without your consent.
If we are sold to or merge with another company, or if we declare bankruptcy, some or all of the information collected from you may be transferred to a third party as a result of the transfer of assets. We may also disclose your information when we determine it is necessary to comply with applicable laws or to protect our interests and safety.
Patient Confidentiality – We believe that keeping the information we receive from you about patients confidential is of utmost importance. We adhere strictly to all state and national laws regarding patient privacy. We may be required to provide personal information regarding the patient to third parties only when needed to complete their requested care & restorations.
Record Keeping – We will keep a paper copy of all lab slips, work tickets, and other case related notes for a minimum of 3 years. When the physical records are no longer needed, we follow a strict destruction process including shredding of all records. An electronic record will be kept for at least the same length of time.
Changes To The Privacy Policy – Any changes to the Privacy Policy will be effective immediately. You may request a current copy of this privacy policy at any time. Your continued use of Experience Dental Studio following any changes will constitute your acceptance of such changes.
Online Security
Experiencedentalstudio.com (the "Site") is owned and operated by Experience Dental Studio, LLC. Your privacy is important to us and this Online Security Policy explains our online information practices for information collected on the Site and the choices you can make about the way your information is collected and used. By using the Site, you agree to the collection and use of your information in accordance with this policy. If you do not agree with this policy, please do not use the Site. Any changes to the Online Security Policy will be posted on this page so we encourage you to check it regularly. Your continued use of the Site following any changes will constitute your acceptance of such changes.
Personally Identifiable Information – We may use your personally identifiable information to provide you with updates about products and services we believe may be of interest to you. If you do not wish to receive this information, email us at info@experiencedentalstudio.com. Except for certain instances, we will not share your personally identifiable information with third parties without your consent. We may use third parties to help us operate our business or the Site and administer activities on our behalf (such as deliver orders and authorize credit card transaction) and may share your personally identifiable information with these contractors for those limited purposes.
The Site is not intended for use by children. We will not knowingly collect any personally identifiable information from visitors to the Site who are under the age of 13.
We may use non-personally identifiable information and aggregate information for internal purposes, such as to better design the Site, and we may share it with third parties to illustrate trends and patterns.
Privacy Protection – Protecting your privacy is important to us. We use industry standard technology to protect the security of your information. Unfortunately, no transmission can be guaranteed to be 100% secure. As a result, while we are committed to protecting your information, we cannot ensure or warrant the security of any information you transmit to us.
The Site may contain links to other websites. We are not responsible for the privacy practices or the content of the sites to which we link.
Miscellaneous
Included in these policies and agreements are lab prescriptions, modifications, diagrams, photographs, models, and instructions of any sort. If any provision of this agreement is determined to be invalid or unenforceable by a court of competent jurisdiction, such determination shall in no way affect the validity or enforceability of any other provision herein.
Indemnity – Experience Dental Studio and its respective officers, directors, employees, agents, successors and assigns are to be held harmless from and against any claim, loss, damage or expense, including attorneys' fees and court costs. This includes those arising from or related to your use or misuse of products fabricated or otherwise provided by Experience Dental Studio.
Dispute Resolution – Any controversy or claim arising out of or related to these policies shall be settled by arbitration. This provision shall in no way limit or affect any legal proceeding between the parties that commenced or remains pending prior to the formation of this agreement.